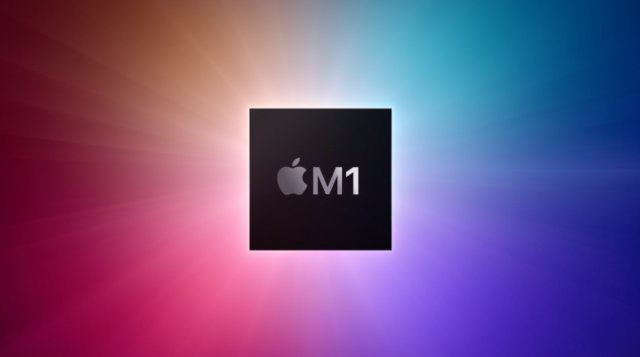 Apple's "One More Thing" event is all about Macs. Here's the scoop on Apple's latest chip, the M1, which is the first ARM-based computer chip the company is making in-house.
The M1 is the first computer chip built on a 5nm process with 16 billion transistors. Optimized for Apple's lower-power systems with minimal size and maximum efficiency, there are four performance cores and four efficiency cores in the CPU. Pound for pound, Apple says it has the highest CPU performance per watt, and the four efficiency cores alone match the performance of a dual-core MacBook Air while using much less power. This should contribute to longer battery life and better efficiency in low-power tasks like checking emails, for instance.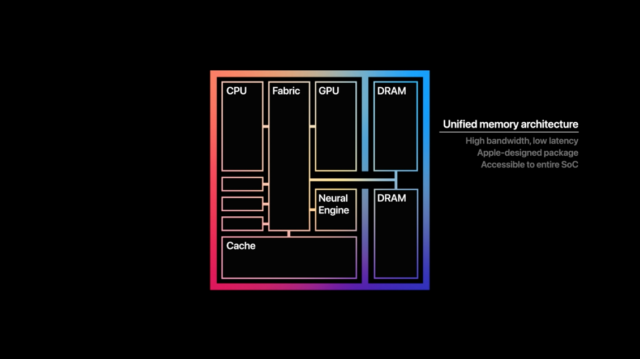 The integrated graphics card has eight cores and can process up to 2.6 teraflops, making it the world's fastest integrated graphics chip in a computer. In concert with the 16-core neural engine, which is capable of 11 trillion processes per second, Apple says apps like Garage Band can handle three times more instruments and effect plugins, while Final Cut Pro, for instance, can render complex timelines up to six-times faster. Compared to "previous-generation Macs," Apple says the M1 delivers "up to 3.5x faster CPU performance, up to 6x faster GPU performance, and up to 15x faster machine learning" with up to double the battery life.
Since this is a system-on-chip (SoC) in which the typically separate components of the computer (CPU, GPU, security, etc.) are integrated into one, Apple's aiming to optimize the flow of data for this with a unified memory architecture. Essentially, this allows the components of the SoC to pull from one central pool of memory, rather than multiple individual stores. This will all be underpinned by hardware-level integrations like hardware-verified secure boot, automatic high-performance AES encryption via the storage controller, and macOS run-time protections. It also includes a Thunderbolt controller with support for USB 4 transfers up to 40Gbps.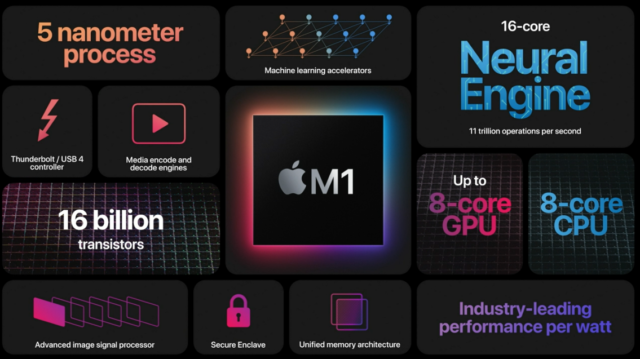 With the newly launched macOS Big Sur, Apple expects to take full advantage of this streamlining. Wake-up times will be instant, as they are on iPhones and iPads, while apps like Safari are almost two times more responsive, the company claims. In fact, all first-party programs have been optimized for the M1 chip. Third-party apps that originally ran on Intel chips and have yet to be optimized for the M1 can still run through Universal Apps, which uses Rosetta 2 to translate them. Some of these apps, Apple claims, run better through this process than they did on their original Intel platforms. Apple is also enabling users to run iPad and iPhone apps on Macs, growing the compatible programs for Mac users significantly.
The M1 will be found in the newly-announced MacBook Air, 13-inch MacBook Pro, and Mac Mini.